General information
For all tourists pros and beginners who want to sell travel services on the Internet
What is a travel partner program?
A partner program is a successful distribution channel for the sale of travel services over the Internet. Partner programs have proved their worth quite well in the travel sector, as they ensure attractive income for the partner from the first booking on the basis of a performance-related fee (payment per booking).
travianet has contracts with over 300 tourism service operators, such as tour operators, airlines, shipping companies, hotels, vacation homes, car rental partners and travel insurance companies.

The customer comments about the advertising media offered by travianet on the partner's page. Using the code associated with the partner's ID, we can assign the booking to a single partner and pay him the advertising cost subsidy of up to 8%, which is transferred automatically when the booking is processed.
Everything else is done by travianet. The partner does not have to worry about anything. The most important role for the partner is to provide the appropriate number of visitors from his side. Therefore, he must advertise from his side.
There are no limits to creativity in this regard. This starts with the booking of your own vacation and that of the relatives or acquaintances. For example, a small sponsoring in the club newsletter, where you can present your domain on the first page, is also conceivable. Or advertise on the bulletin board in the company or the university. Some of the partners, for example, distribute business cards to their acquaintances even when they are on a personal trip. Or place them in the local gym. In return, they also put a link for the gym club on the side.
What are the requirements?
All you need is some basic knowledge to create your own website.
You can find all advertising materials, such as travel search filters, online booking portals, banners, templates or even fully packaged travel shopping locations, in your partner account under "My links" section. All links are automatically embedded with your partner ID. This means all incoming bookings are automatically assigned to your partner account and your advertising expense allowance is then paid out to you.
If you choose to advertise a fully packaged travel shop, you only need to forward your website link.
travianet's support team will provide help on installation of our advertising material. We always have an open ear for your questions, suggestions and wishes – you can call us on Tel. 0991/29 67 – 60400 or send us an email via support@travianet.de.
How do you proceed after signing up?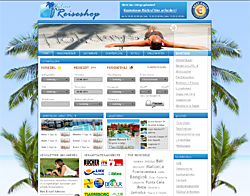 After signing up for free, you can start immediately without having to commit yourself.
From the link listed under "My Links" section in your partner account, choose the means of advertising you will use on your home page. The links are automatically generated with your partner ID. This allows for all bookings associated with your partner ID to be credited to your partner account. These links are easy to embed on your website – moving forward, bookings can be made through your website and you will receive a promotion fee of up to 8% for each booking!
Now that you are a travianet partner, all you need to do is advertise your website to drive traffic to it as much as possible. This can be done in several ways such as word of mouth to friends and acquaintances, handing out fliers or advertising to invite visitors to the site.
You can professionally optimize your website for search engines and search engine marketing by using specific terms that will relate with placed ads on your website.
What is the time needed and how do travianet partners work?
You can now decide what to do. The amount of time you put on this work is solely dependent on your personal goals.
If you set up a domain and link it to a fully packaged travianet shop, you have no maintenance cost whatsoever. Since the shop will be located on our servers and you are simply linked to it, we will take care of the maintenance bit. We revise and update both the offers and links on a regular basis. You don't have to worry about anything except how to drive more traffic to your website. There is often enough word of mouth advertising, a few handouts or flyers being handed out, business cards being shared or a note in the newspaper. As already mentioned, your creativity is on demand – you now have your own online travel agency!
If you want to go a step further and design your own website, you need to have basic knowledge some of the most common programming languages. You can then embed our advertising materials, for example the booking portal, into your site's iframe. In the same way, you can also create quotations and advertise specific hotels or destinations. You also have the option to go a step further and place your own content, such as pictures and content on destinations, on your page. You are not far away from a professional travel site and can still manage your site "easily". The only hard part is when you have to create content for your website and select pictures to go with the content. Maintaining links and rates is, however, not very expensive.
If you enjoy designing your own website or writing about travelling, you can devote yourself entirely to the optimization and maintenance of your pages (usually can be done quickly). You can be introduced to search engine optimization (SEO) and search engine marketing for your website. This can easily become a full-time job where you earn your living. Many travianet partners began with a simple website page and are now managing several large travelling online portals. Decide where the next trip will be.
Which concept is right and how can I make my own website successful?
Recent findings have shown that it is becoming increasingly difficult to attract a significant number of visitors to websites. What used to be quite easy, today, it has become much more complicated due to the change in algorithms used by search engines. The increasing competition of large agencies owning travel portals, others advertising billboards and TV prime time with large marketing budgets place a new demand on individual website users.
Search engines want to provide their users with high-quality search results. Current and unique content are regarded as high quality, such as your own texts with information about a particular destination or a specific form of travel. A single website cannot recommend its content on all tourist destinations worldwide but specializing in particular destinations (such as Fuerteventura) or travel forms (like the Nile cruise or golf trips) has proved particularly promising.
It is important for the content to be unique (so-called original content) and should not be copied from other pages (so-called duplicated content). Definitely, one can get the fresh information from other Internet sites such as Wikipedia. travianet also offers a huge selection of content in its travel magazine for various destinations. It is important that your content is always thoroughly rewritten since it can also be found in other websites. If you do not have the expertise to write, you can have an acquaintance do it for you.
Ideally, choose a destination that you know well and write a lot about it. Current information regarding events (like carnival in Gran Canaria) or changes in local infrastructure (such as a new beach in Agadir) can also be easily found by searching online. This information is attractive for those who love these special destinations and would like to thank you for arranging for their regular visits or even book for them again.
High quality pictures are also important. You can either go back to your own photos or search in image databases on the Internet (copyrights) which you can download for free or for a fee then publish the photos on your own site.
In order to integrate your content on the website and make it rank highly on search engines, there is need for optimization. travianet offers you a detailed and easy-to-use guide featuring search engine demo tutorials (check under "Infostore" -> "Documents" -> "SEO-Elearning pro" in your partner account). If you have any questions, please do not hesitate to contact travianet.
travianet has many partners who use this concept to generate a lot of bookings and to project high advertising costs. You can also build a nice and content-rich website with simple basic knowledge and using an HTML editor. You do not have to be a professional programmer to do this.
Eventually, you can a lot more for new visitors and bookings. Finally, you no longer have to hide offers given by travianet! travianet's advertisements can now be booked anytime, 24 hours a day. You can choose from over 300 tour service providers, several a 100 million travel offers and even compare prices. This is more than most what other typical travel agencies offer in their program. In case of any questions, travianet's friendly customer service center will advice accordingly. Here, our well-trained travel experts advise our customers and process their bookings.
So, why not advertise your online travel agency to your family, friends and acquaintances using your travel website? Of course, you can also book your own holiday through your travel website and be you're your promotion fee immediately after completing your booking. And why not talk to other tourists in their vacation and having a good time at the hotel swimming pool about the advantages of booking you're your website then later handing them your business card.